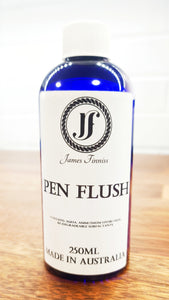 James Finniss
Fountain Pen Flush - Ink Cleaning Solution
Sale price
$9.00
Regular price
$14.00
or make 4 interest-free payments of $2.25 AUD fortnightly with
More info
Proudly made in Australia.
Some inks can be a right pain to clean out completely. Leave a pen sitting unused for any length of time and you will have seen this! When water isn't enough, you need pen flush. Formulated to be careful with your precious pens but still be able to thoroughly clean stubborn inks. This 250ml bottle will last you a very long time. Pen flush can be used many times, don't pour it out, keep it for next time. Use for several flushes before disposing of it.
Instructions:
Clean your pen as normal, preferably with distilled or de-mineralised water until the water funs clear
Decant a small amount of pen flush into a container, fill your pen and flush back into the container several times. Keep the container of flush for next time
Fill and flush again with clean water several times to remove any residual pen flush.
Warnings:
Do not drink or get in your eyes
Don't let the kids get at it
Don't let the pets get at it either
Don't mix with bleach
Most pens are safe to soak overnight if the ink is particularly stubborn but please do your research first to ensure that the pen is compatible with ammonia based pen flushes. Make sure you don't use it on any pens that are not compatible with Ammonia based pen flushes (e.g. Aluminium, Casein)
Ingredients:
Reverse Osmosis Water
Ammonium Hydroxide
Surfactants.
---
More from this collection